Ok so this is post numero uno. (See what I did there? That's Spanish. It's about all the Spanish I currently know.) We plan on using this blog to document what we're up to. Hopefully it will entertain you. It will most certainly entertain us.
THE GUYS
Phil is one of my best friends. I've known him since 8th grade and we've been partners in crime since then. We've taken countless road trips together, we've lived together, we know each other quite well. That's me on the left, Phil on the right: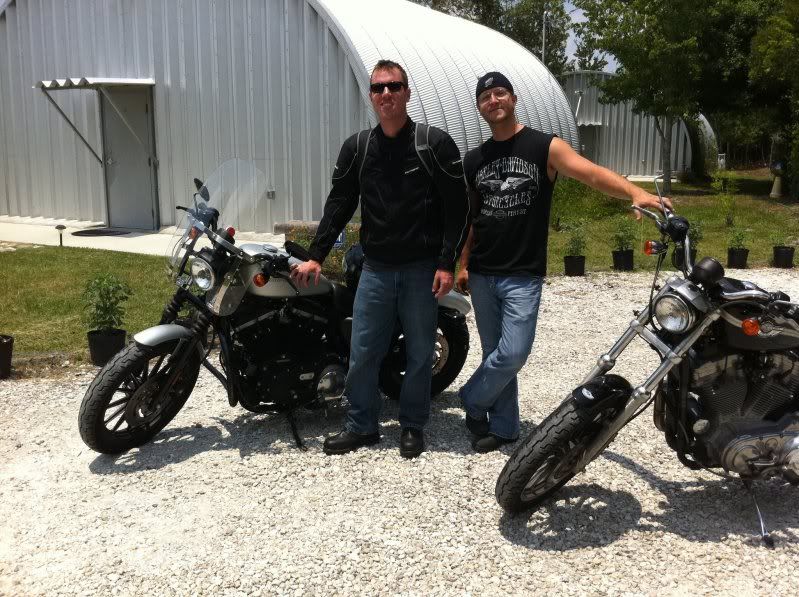 Phil has been riding motorcycles for about five or six years now. He still rides his first bike, a 2003 Harley-Davidson Sportster. Phil's Sportster: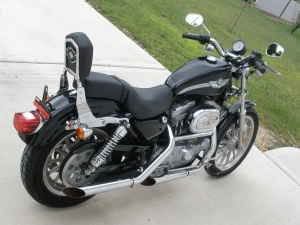 I hesitated for a long time to get into motorcycle riding, buying into the hype that if I bought one I'd soon die. Well, I decided to take my chances. My dad and I took the motorcycle safety class and I bought a 2004 Harley-Davidson Sportster Custom. I wanted a bike that would be easy to learn on, fun and useful around town and would also work for weekend trips. As of now, I've had it for a little over three months and I've put almost 6,000 miles on it. Yeah..I like it.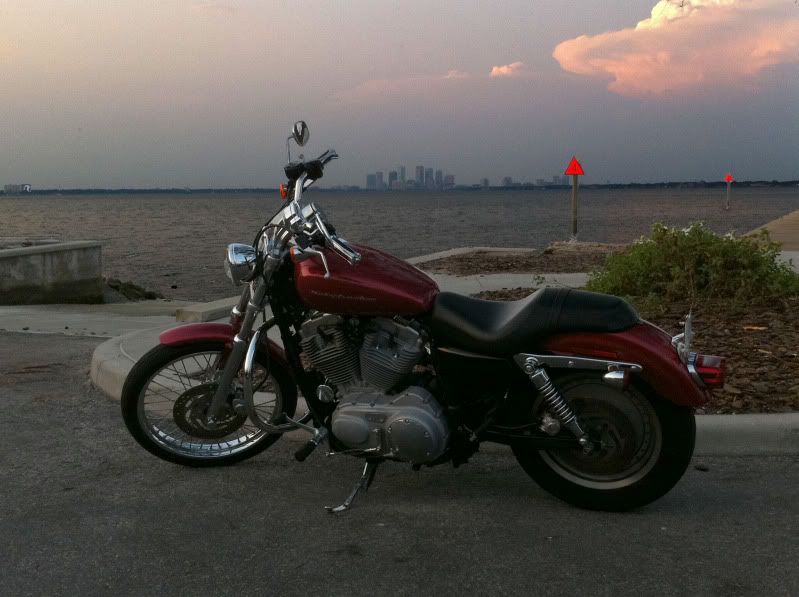 THE PLAN
It goes something like this... Let's sell almost everything we own, take time off our jobs and ride motorcycles South. Where? Anywhere, as long as it's South. We are in the very, very early stages of planning but as of now we have decided to each put away $100/week toward this trip. We figure that will put us at around $10,000 in about a year..hopefully enough to spend quite a bit of time on the road. How long? Maybe just a few months. Maybe we'll never return.
So..how will we go from here and now to blasting through Central and South America on dual-sport bikes next year? Good question. So far, everything we've read has indicated that the fall is the ideal time to go so we're thinking sometime about a year from now will be our actual departure. That gives us plenty of time to sell our current motorcycles, buy the trip motorcycles and start preparing them for a trip of this scale. It also gives us time to figure out our living situations so that our leases end around our departure time. We will be shutting down basically every aspect of our lives here until we return.
So where does that leave this blog for now? It will serve as our trip planning hub as well as documenting our various motorcycle-related adventures that unfold between now and "the big one". Hopefully you'll come along with us!